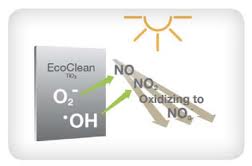 La empresa Alcoa Architectural Products ha presentado al mercado un panel de fachada de aluminio que se limpia a sí mismo y que limpia el aire del entorno: los paneles de alumnio Reynobond®|Reynolux® with EcoClean™
Como funciona esta fachada de aluminio:
El panel de aluminio al que se le ha aplicado un revestimiento de dióxido de titanio sensible a la luz, denominado EcoClean™, actúa con la radiación solar como un catalizador.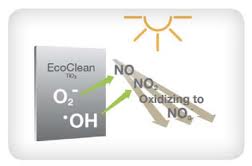 Debido a los electrones liberados por la luz UV, se forman radicales que descomponen sustancias orgánicas como excrementos de pájaros, musgo, gases de escape y partículas de humo. Al mismo tiempo se forma una superficie superhidrófila y extremadamente lisa.
Incluso con bajos volúmenes de precipitación o con el rocío, la suciedad descompuesta se deslizan fácilmente por la superficie del edificio, dejando una fachada limpia.
Los científicos de  Alcoa trabajaron han  trabajado durante cuatro años para poder aplicar sobre aluminio barnizado la tecnología Hydrotect™ basada en dióxido de titanio ,ya que atacaba a todas las materias orgánicas bajo él, incluidas las capas de pintura.
Fachadas límpias y ecológicas.
A su poder de autolimpieza los paneles de alumnio Reynobond®|Reynolux® with EcoClean™ unen, además, el poder de limpieza del aire.
Una superficie de fachadas de 1.000 metros cuadrados de fachada recubierta con estos paneles destruye tanta polución como unos 80 árboles,el equivalente al volumen de gases de escape que emiten diariamente cuatro coches.
No es más caro que los sistemas tradicionales:
Según el tipo del sistema de fachada, Alcoa calcula un incremento del precio comprendido entre el 1,5 % y el 5% respecto a otros sistemas tradicionales, pero teniendo en cuenta los costes totales durante su vida útil, la fachada Reynobond®| Reynolux® revestida con EcoClean™ es aún más económica.
Además, el atractivo del edificio aumenta y se conserva, ya que la fachada se libera de la suciedad automáticamente, creando edificios con una imagen de alta calidad y durabilidad.
This post is also available in:

https://rehabilitacionfachadasbarcelona.es/wp-content/uploads/2013/02/panel-aluminio-fachadas.jpg
166
252
rehabilitacionfachadasbarcelonaadm
https://rehabilitacionfachadasbarcelona.es/wp-content/uploads/2017/04/logo-rehabilitacionbarcelona-1.jpg
rehabilitacionfachadasbarcelonaadm
2013-02-12 13:17:51
2017-04-20 10:34:35
Un fachada que se limpia sola